Are you Employable ?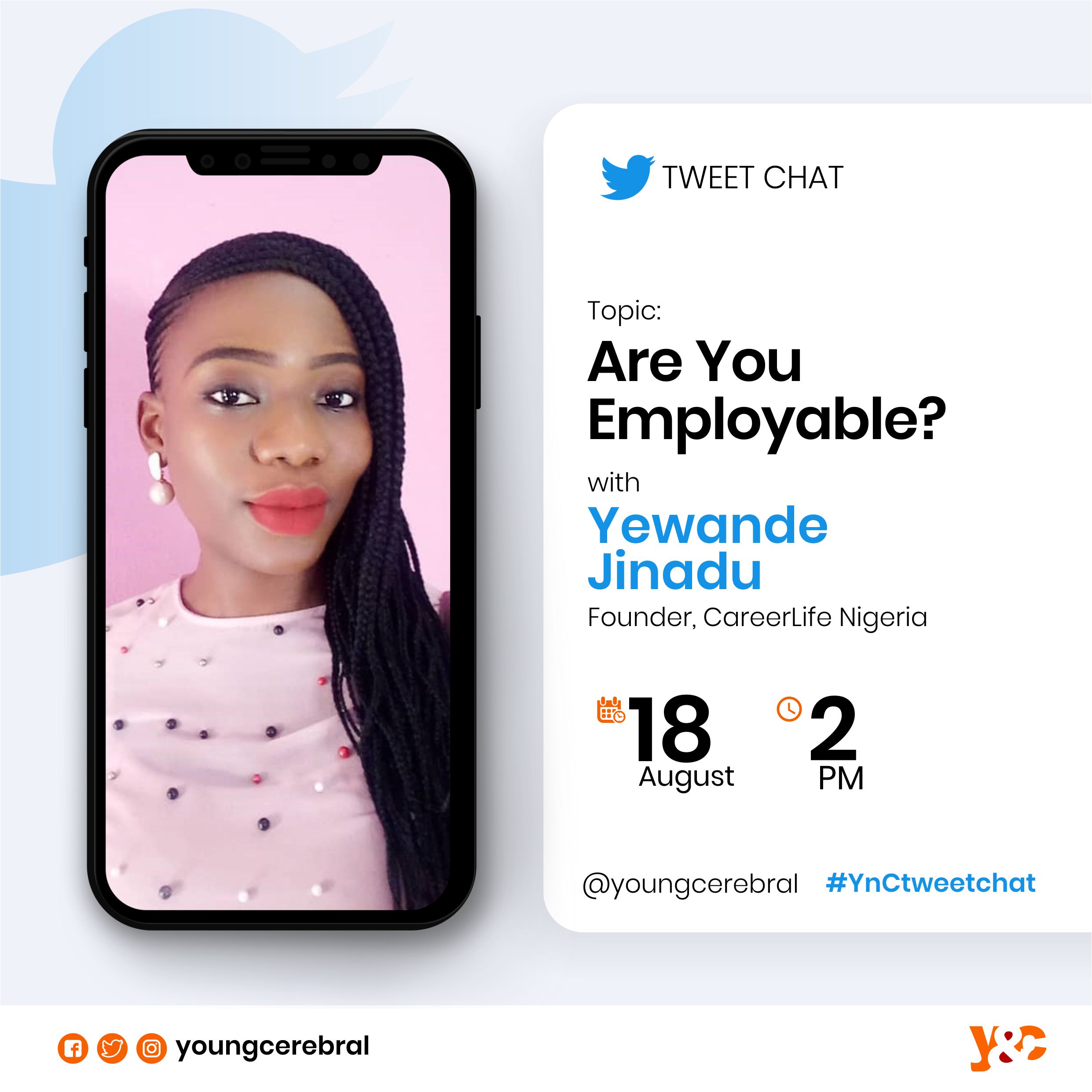 Are you Employable ?
I recently had a #tweetchat with @youngcerebral. The topic interests me because it's something a lot of young graduates need to ask themselves.
I've compiled the questions and my responses hoping someone would learn one thing or the other.
What does it mean to be employable?
Response:  Being Employable means having the required knowledge, skills and attributes to be employed. In short, being suitable to work in your desired organization
We hear a lot of HR Professionals talk about the 21st century skills, please share these skills with us.
Response: 21st Century Skills are skills needed in this current world and reality. Examples include: Communication skills, Critical Thinking, Analytical Skills, Technology Literacy, Adaptability, Creativity, Leadership, Collaboration etc.
In your opinion, is there a perfect candidate? If No, what makes an applicant good enough for a role?
Response: No
No one is ever perfect. An applicant is good enough for the role if the applicant can show that they understand the role and can add value to their team and the organization
What are Employers looking out for in an applicant?
Response: Employers are looking out for a candidate that is teachable, flexible, has a good attitude and can add value! Regardless of the kind of role you're applying for, once you're able to show Value which would mean a good ROI, you would be more appealing to am employer
Are interviews enough to determine if a candidate is qualified for a job role?
Response:  Various Employers have their recruitment process which would vary based on the level and requirement of the role. For some, Interviews may be enough, for others, it won't be.
For fresh graduates, how should they position themselves to get jobs?
Response:
-Know the kind of jobs you want to apply for
-Apply to the ones you're suitable and qalified for
-Get your CV and cover letter in shape
-Network with Professionals and position yourself for coded jobs
-Prepare well for your interview
-Pray and leave the rest to God
It is usually said that your CV speaks for you even when you are not there, with this in mind, what are those details that a good CV must have ?
Response: There is no hard and fast rule to CV writing. Different employers have what appeals to them or not
Basic things include:
-Educational Qualifications
-Employment History and duration
-Job Title and description of tasks
-Achievements
-Training/Certifications
-Relevant skills
What are the things a candidate must do when preparing for an interview?
Response:
-Study the job description
-Research about the organization and understand why and how your role would add value to their needs
-Be prepared physically (clothes, punctuality, good odour)
-Google potential Questions and prepare with someone
-Don't be scared 😉
How would you advise young people to deal with the issue of having a certain number of years of experience for a job role?
Response:
They should apply to roles that fit their Experience and skills. Not to apply to unrealistic job roles. If you fall short by few years, you can try but you should ensure you meet at least 80% of what's needed. Also you can Upskill to make up for what you lack.
Finally, what is your advise to young people who have gotten No severally; after so many interviews?
Response:
-Do a reassessment (what have you done wrong)
-Improve on your weakness e.g your CV, your presentation during interviews etc
-Come back better and stronger 💪
-Don't give up. The sun would shine in the morning 🌞😉
Do you know we're planning a two day program for Young Nigerian Graduates to help them overcome interview phobia and it's tagged "Employability Fitness Program (EFP3.0)". It's also FREE! Click here to register